Perfume : the story of a murderer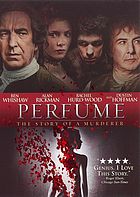 Main Title:
Perfume [videorecording] : the story of a murderer / DreamWorks Pictures and Constantin Film present a Constantin Film and VIP Medienfonds 4 production ; in co-production with Nouvelles Éditions de Films and Castelao Productions ; produced by Bernd Eichinger, Gigi Oeri ; screenplay by Andrew Birkin & Bernd Eichinger & Tom Tykwer ; directed by Tom Tykwer
---
Published/Created: Universal City, Calif. : DreamWorks Home Entertainment, [2007
---
Language note: In English, with English or Spanish subtitl
Note: DVD ; Region 1 ; widescreen presentation ; Dolby Digital 5.1 surround, Dolby Digital 2.0 stereo., surrou
Note: Based on the novel "Das parfum," by Patrick Süskin
Target Audience: MPAA rating: R; for aberrant behavior involving nudity, violence, sexuality, and disturbing imag
---
Cast:
Ben Whishaw (Jean-Baptiste Grenouille), Alan Rickman (Richis), Rachel Hurd-Wood (Laura), Dustin Hoffman (Giuseppe Baldini), John Hurt (narrator), Karoline Herfurth (the plum girl), David Calder (Bishop of Grasse), Simon Chandler (Mayor of Grasse), Sian Thomas (Madame Gaillard), Jessica Schwarz (Natalie), Corinna Harfouch (Madame Arnulfi), Paul Berrondo (Druot), Timothy Davies (Chenier), Sam Douglas (Grimal), Harris Gordon (Marquis de Montesquieu), Sara Forestier (Jeanne), Joanna Griffiths (Marianne), Birgit Minichmayr (Grenouille's mother), Alvaro Roque (Grenouille, age 5), Franck Lefeuvre (Grenouille, age 13), Michael Smiley (porter), Richard Felix (Chief Magistrate).
---
Credits: Director of photography, Frank Griebe ; production designer, Uli Hanisch ; editor, Alexander Berner ; costume designer, Pierre-Yves Gayraud ; makeup & hair design, Waldemar Pokromski ; music, Tom Tykwer, Johnny Klimek, Reinhold Heil ; performed by Berliner Philharmoniker, conductor, Sir Simon Rattl
---
Material Type: video recordin
Document Type: visual materia
---
Summary: Jean-Baptiste Grenouille is born under his mother's table at the fish market, onto a pile of muddy fish guts, establishing from the beginning his repulsion for putrid scents. A childhood of neglect and, later, a job at a tannery, encourage Jean-Baptiste to develop his olfactory sense rather than his verbal skills. An opportunity to prove his worth to Parisian perfumist Giuseppe Baldini results in his immediate hire into a promising new career. His successes in perfume mixing are negated by a blinding obsession for capturing the sublime beauty of the human soul, which in his twisted logic requires the killing of young women to reduce their body fats to essential oils for the ultimate perfum
---
Subject:
Serial murderers -- France -- Paris -- Drama
Subject:
Perfumes industry -- France -- Paris -- Drama
Subject:
Odors -- Drama
Subject:
Senses and sensation -- Drama
Subject:
Paris (France) -- Drama
Subject:
Man-woman relationships -- Drama
Subject:
City and town life -- France -- Paris -- Drama
Subject:
German literature -- 20th century -- Film adaptations
Digital Video Disc
1 videodisc (147 min.) : sd., col. ; 4 3/4 in
©2007, , DreamWorks Home Entertainment, Universal City, Calif.
Distributed by C Interactive Digital Entertainment
AV Material ID 1000014215