In the womb collection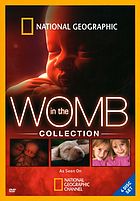 Subject:
Science Area
Added Authors:
Pioneer Productions; National Geographic Channel (Television station : Washington, D.C.); Fox Television Studios
Note: Special features : Prenatal development timeline and photo gallery
Other title:
Womb
Added Authors:
Toby Macdonald; Andy Greening; Steve Burns; Michael Cascio
Added Author:
Nick Schatzki
Executive Producer Jenny Apostol
Summary: Disc 1- In the womb: witness the journey of a developing new life as In the Womb opens a window into the hidden world of the fetus and explores each trimester in amazing new detail; Disc 2- In the womb: Animals: National Geographic takes you inside fetal development in the animal kingdom, unlocking the mysteries of one of nature`s most remarkable journeys Disc 3- In the womb:multiplies: through groundbreaking technology an amazing 4-D ultrasound images, watch quadruplets as they develop in utero and engage in their first interactions with each other. Disc 4- In the womb: identical twins:follow the embryonic and fetal journey of one of nature`s most fascinating twins (taken from container)
Videorecording DVD
4 videodiscs (316 min.): digital, col., 4 3/4 in.
©, 2009, NGHT, Inc. , Washington, D.C.
Distributed by [none]
AV Material ID 1000014108
Mammals -- Embryology
Pregnancy
Fetus -- Growth
National Geographic Channel (Television Network)