Ben-Hur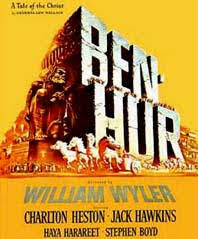 Main Title: Ben-Hur [videorecording] / Metro-Goldwyn-Mayer ; screenplay, Karl Tunberg ; producer, Sam Zimbalist ; director, William Wyler.
---
Published/Created: Culver City, CA : MGM/UA Home Video, c1988.
---
Related Name:
Wyler, William.
---
Description: 1 videocassete of 1 (VHS) (ca. 211 min.) : sd., col. ; 1/2 in.
---
Summary: A peace-loving prince of Judea, leads his nation against the wrath of the conquering Romans. His self-imposed destiny brings tragedy to himself, and his people, as he learns to fight, to love, to hate and, finally, to forgive through his observation of the example and teachings of Jesus.
---
Cast: Charlton Heston, Jack Hawkins, Haya Harareet, Stephen Boyd.
---
Credits: Director of photography, Robert L. Surtees ; music, Miklos Rozsa.
---
Notes: Based on the novel of the same title by Lew Wallace.
---
Subject:
Jesus Christ -- Drama.
Subject:
Jews -- Persecutions.
Subject:
Paganism.
Subject:
Chariot racing.
Subject:
Holy Rome Empire -- History.
Subject:
Leprosy in the Bible.
---
Genre/Form:
Feature films.
---
Volume ID Number: 1106001360
Volume ID Number: 1106001361
---
Local Call No:
VHS BS 2410 W94
videorecording VHS 211 min.
1 videocassette of 1 (VHS) (ca. 211 min.) : sd., col. : 1/2 in.
©1988, 1988, MGM/UA Home Video , Culver City, CA
Distributed by [none]
AV Material ID 1000006711