Tatarin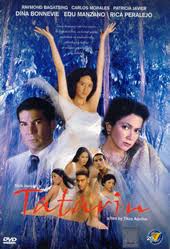 Main Title: Tatarin [videorecording] / Viva FIlms proudly presents ; a film by Tikoy Aguiluz ; produced by Vicente G. Del Rosario III ; story by Nick Jouaquin
---
Published/Created: Diliman, Quezon CIty : Viva Video Inc., c2002.
---
Description: 2 videodiscs in 1 can (VCD) (ca. 102 min.) : sd., col. ; 4 3/4 in
---
Local Call No:
VCD GT 4881 A38
---
Cast: Dina Bonnevie, Edu Manzano, Rica Peralejo, Patricia Javier, Raymond Bagatsing, Carlos Morales, Maui Taylor, Ces Quesada, Tony Amador, Kristine Jaca
---
Credits: Choreography, Edna Vida ; director of photography, Ely Cruz ; screenplay, Ricky Lee, TIkoy Aguiluz, Mirana Medina, Dez Bautista ; music, Willy Cruz ; original enthnic music by Pinikpikan ; editor, Mirana Medina
---
Summary: An adaptation of the popular play of Nick Joaquin, Tatarin is about the celebration of a "sacred" feast that liberates
---
Subject:
Fasts amd feasts.
Subject:
Rites and ceremonies.
Subject:
Ritual, women -- Social condition.
Subject:
Fertility culture
Subject:
Festivals, Joaquin, Nick.
---
Related Name:
Jouaquin, Nick.
Related Name:
Aguiluz, Tikoy.
---
Video Compact Disc VCD 102 min.
2 compact discs in 1 can (VCD) (ca. 101 min.) : sd., col. ; 4 3/4 in. trk.
©2001, 2001, Viva Films , Quezon City
Distributed by Viva Video, Inc.
AV Material ID 1000002334