Stepmom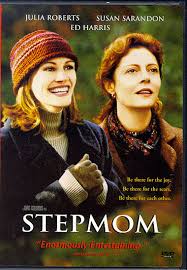 Main Title: Stepmom [videorecording] / Columbia Pictures ; screenplay by Gigi Levangie ... [et al,] ; produced by Wendy Finerman, Mark Radcliffe, Michael Barnathan ; directed by Chris Columbus.
---
Published/Created: Culver City, CA : Columbia Tristar Home Video, c1999
---
Related Name:
Columbus, Chris.
Related Name:
Roberts, Julia.
---
Description: 1 videocassette of 1 (VHS) (ca. 125 min.) : sd., col. ; 1/2 in
---
Summary: Anna and Ben, the two children of Jackie and Luke, have to cope with the fact that their parents divorced and that there is a new woman in their fathers' life : Isabel, a successful photographer. She does her best to treat the kids in a may that makes them still feel at home when being with their dad, but also loves her work and does not plan to give it up. But Jackie, a full-time-mother, regards Isabels efforts as offensively insufficient. She can't understand that work can be important to her as well as the kids. The conflict between them is deepened by the sudden diagnosis of cancer, which might may be deadly for Jacjie. They all have to learn a little in order to grow together
---
Cast: Julia Roberts, Susan Sarandon, Ed Harris
---
Credits: Director of photography, Donald McAlpini ; edited by Neil Trawis ; music, John Williams
---
Subject:
1. Stepmothers -- Drama.
Subject:
2. Stepchildren -- Drama.
Subject:
3. Stepparents -- Drama.
Subject:
4. Stepfamilies -- Drama.
Subject:
5. Interpersonal relations -- Drama.
Subject:
6. Cancer -- Diagnosis -- Drama.
---
Volume ID Number: 1106001586
Volume ID Number: 1106001173
---
LC Classification: VHS HQ 759.92 C64
1998 Edition
videorecording VHS 135 mins.
1 videocassette of 1 (VHS) (ca. 135 min.) : sd., col. : 1/2 in.
©1998, 1998, [none] ,
Distributed by [none]
AV Material ID 1000001509