Man, woman and child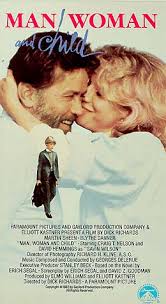 Main Title: Man, women and child [videorecording] / Gaylord Production Company and Elliott Kastner presents ; a film by Dick Richard
---
Published/Created: Hollywood, CA : Paramount Home Video, 1983
---
Related Name:
Richards, Dick.
Related Name:
Segal, Erich.
Related Name:
Danner, Blythe.
---
Description: 1 videocassette of 1 (VHS) (ca. 99 min.) : sd., col. ; 1/2 in
---
Summary: A sensitive, intellegent family man who, in one brief and innocent affair long past, fsthered a child whose sudden appearance threatens his happy life. A typical American family's deep love is shaken, tested and ultimately reaffirmed during the adjustment period
---
Cast: Martin Sheen, Blythe Danner, Craig T. Nelson, Nathalie Nell, Jacques Francois.
---
Credits: Executive producer, Stanley Beck ; screenplay, Erich Segal, David A. Goodman ; producers, Elmo Williams, Elliot Kastner ; music, Georges Delerue
---
Notes: Based on the novel by Erich Segal
---
Subject:
Family.
Subject:
Husband and wife.
Subject:
Man-woman relationships -- Fiction.
Subject:
Adultery -- Fiction.
Subject:
Fathers -- Fiction.
---
Genre/Form:
Drama.
---
Volume ID Number: 1106000015
---
LC Classification: VHS HQ 734 R52
1983 Edition
videorecording VHS 90 mins.
1 videocassette (ca. 90 min.) : sd., col. : 1/2 in.
©1983, 1983, Paramount Pictures , United States
Distributed by [none]
AV Material ID 1000000017